Quotidiano |
Categorie: Politica, Fatti, English news
Steve Maman, the Moroccan Jew who saves the Yazidis and Christians people
Venerdi 4 Agosto 2017 alle 22:18
|
0 commenti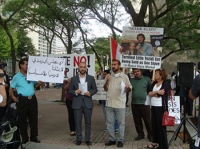 The lives saved (and rescue) of 140 people from Isis territory , the distribution to 25000 people in Kurdistan, the 2311 Yazidis we took out of Lesvos Greece to Germany and the camp of Petra Greece, where we catered to 1400 Yazidi. Steve Maman (here the interview italian language version) in a simply way says "We", but for intellectual honesty I must say that at least 80% of the work has done by himself...and the world does not see, not even the Vatican. If Steve had been a Catholic, would the world see it?
A new human disaster struck again. But few people seem to realize it, nor even the Pope! The forced exodus of many Christians and Yazidi from the Middle East and North Africa ,that follows the exodus of Jewish people during the last wars, does not knows respite. January 27, many people low on memory, rediscover by magic, the tragedy suffered by the Jews during the second war.
Priests, politicians, haters of Israel, university professors, real political pundits, political pundits fictitious ... and then those, "most beautiful", those who rediscover the Jews, only on January 27 and reserving contempt and denial for the rest of the year. "Never Again" it is written on a stone in the concentration camp of Treblinka, the author has sent a message that has been ignored, because what it is happening now is not "Never Again", but "Again". The pope went to Greece and took home, in the wally city of Vatican "four Syrian" . I have a friend who has helped and he is helping many Iraqi and Syrians and few have noticed him.
On 2015 I discover a Special Men and to write something about Steve Maman (President of CYCI http://liberationiraq.com/) is not as simple as it might seem, some moments that can be written and other should not be written, more are true senses. Steve Maman is a special person and I like to tell him, "You are to remember, to forget, to be". To remember what you have done and are doing, to forget the atrocities of whom you are testimonial and to be who you are, in the face of those who speak against you
Steve, Teacher of life because it teaches to those who have money that besides having fun, you also have to think about who to less than nothing
I met Steve through social network, I looked for him. I had read a brief testimony in a British tabloid, it was not clear for me some of his statements and then I wanted to investigate.
What I read seemed me so strange, so borderline, and so unreal to nations such as Syria and Iraq, which in times of relative peace I had visited and I was sure to know. I was aware that in some countries women were slaves, I studied with a Kuwaiti girl called Masuma and our friendship has dissolved just because I knew most of her intimate secrets. I know of female slavery, as a form of male mastery. It seemed to me that the slaves Isis were a legend rather than a reality. I had a war experience (Yom Kippur), I sow a battered Lebanon, I looked in the ruins the memories of my Christian and Jewish friends (once in Lebanon there were Jews, Christians), I put hands and nose where I should not to do it. I had provisional 24-hour police custody for insulting what I believed a Lebanese military and instead was a man of the notorious Syrian police Shu'bat al-Mukhabarat al-'Askariyya in Sidon. I thought I knew how to move in a hostile nation, but my knowledge had been overtaken by a new geopolitical, in front of which was not enough to say "Know your enemy and know how to win over him." But now the scenario has changed and I no longer know my enemy. I could no longer walk alone in Iraq and Syria.
I lived life experiences not common, I think I know quite well the complicated Middle East relations, but after reading what Steve Maman told, I had a lot to reflect on my knowledge and how these States are changed in the last twenty years.
Steve Maman gave me the input to regain knowledge of those Arab countries, which I studied in my youth, but I put then aside. The figure of Steve Maman in the complicated Middle East process seemed me abnormal, I was wrong. I found out that Steve was not a story, but the actual story, a person who in everyday life, in the mechanisms of the heart and of the mind he finds inexhaustible sources of great inspiration that offer indelible strong emotions. I followed, monitored, X-rayed and I saw him to save women prey of Isis violence, he gave birth to a project with dedication and love by who does things with the heart. But the press, the media, politicians gave little weight to his human enterprise, and I never understood this lack of interest to him, as I have never understood the verbal assaults that often have been addressed by various entities and believe is right to thank him for this interview, for the opportunity it gave me to lavish his knowledge, his experiences, his soul.
(photo gallery, here video "Full story: the Jewish Schindler").
QUESTIONS:

How did you get the idea of helping the people iazida, Christian and Jewish in Iraq and Syria?
Since many years I am working as collector and vintage car dealers and my job has led me to turn to Middle East and North Africa. I I had already a few months prior taken Assyrian Christians out of harm's way and sent them to Ankara. I thought I had done my share of good with that one day, while I was paying for old car in Bagdad and a man approached me and he start to telling me that militants of the Islamic State began a campaign o mass abduction of Yazidi and Christian women and girls, a religious minority in Northern Iraq introducing a systematic sexual slavery. We all world forget about the drama of Yazidi women, invisible victims of the Isis, suppressed in slavery, raped, beaten. They have been subjected to unspeakable torture. They are the yazida girls and women, invisible victims of the Islamic State in Iraq mainly and in Syria and forgotten by the rest of the world that has closed too often their eyes on this immense tragedy

I followed you from the beginning of your humanitarian activity and it has not always it s been easy for you; you have been also attached of fierce reprisals, but me and a thousand other people, common people always believed and supported you. Why so much rage against you?
You are right (you are a good reader) Members of the Yazidis community which includes Babasheikh Kherto Ismael, a Yazidi spiritual leader, and those involved in outreach and humanitarian support dispute about my work and call for a greater transparency and oversight in the work with minority populations fleeing Iraq. You have traveled a lot, you know Middle East and North Africa, you saw a martyred Lebanon, you lived on your skeen the Yom Kippur war in Israel, you visited Syria, Iraq, the Emirates...you have experience with Lybian people and you well know what separe Tripoli from Cirenaica. You, Paula, know how hard it is for a person who does not belong to their "tribe" to find consensus. A Jew who helps Christians and Iazidi? It looked like apocalypse. I am a Moroccan Jew and for all those people who do not know the Jewish religion it seemed impossible that I could put my heart. My sytrenghs and money at their disposal. At the end everything was resolved, they understand my seriousness and my honesty, I also received a letter of apology from but you can understand how much me and my family have suffered for the allegations without foundation, that have been made to me and to all us.
I remember a donation that touched my heart: five dollars each month for 12 months ... it is a clear demonstration that the most profound help comes from the soul and those who have very little...these people are teaching how to share the little they have with others. To support your cause you received diversified donation: what impacted had small donations (unity is strength) and how much the large.
I was helped by the Sephardic Jewish Community of Montreal and some entrepreneurs. But it was very important the contributions of common and simple people ... those people who are struggling to give you 50 dollars, but they did. I've also "stolen" the money of my wife, my children ... and I hope to retrieve them over the years even if the economic situation is no longer the one of a time. I've collected about $ 1 million dollars Canadian and I've been able to redeem 140 people and to cover some camp costs, to provide food and dresses for the refugees., to pay transportation to other States. For private people working without profit nothing is free. I have to thanks even Canon Andrew White, formely the pastor of Baghdad's St. George Curch for the logistic support gave to me and my staff
How you could to rescue the girls? Did you acted through intermediaries or directly? But who are these intermediaries and how they operate. I am not asking for their name...but I try to understand the mechanism When I met you your goal was to free about 613 slaves, 140 have been freed, which is still a huge number considering the emerged problems, do you want to talk about that?
CYCI is a private and independent humanitarian organization. I did not deal directly or indirectly with the Isis men, but I had to rely with intermediaries, local people. Sometimes I find difficult to answer you, because you well know the action... but I understand you want the answers from me. I could not act directly with the delinquents and call them delinquents is a compliment. I have a big family and I have no government to support me other than the Canadian Harper government at the time . We started off with the first negotiations of a $ 3,000 paid woman, but the requests becomes, time by time more expensive. Unfortunately this is the law of redemption. But my morale has prevented me from affecting these slaves. If I had not paid the expenses of the teams to free the slaves , another 140 people would be probably dead or still in the hands of men in Isis territory. My team people gets as close as possible to areas controlled by IS as to meet operatives people working inside. Those operatives negotiate with people who are holding Yazidi women and girls, these negotiators have the blessing of Iraqi ayotollahs and imams, who still hold a lot of influence over many civilians living in IS-controlled territory. The girls are freed and brought to meet the CYCI rescue team. After that our staff interview, fingerprinted and photograph the people as to say that any liberation is filmed and kept in a filing cabinet.
How much helped Jewish education to pursue this your project and how much your family supported you, or without your Jewish education and without the support of those you love you'd be successful in this venture?
Absolutely not. Judaism was the cornerstone of my life. When I began to know the sufferings of the Yazidi people in the first place, I thought about our suffering during World War II and I immediately thought of the concept of Zadekà , to which I was educated, my wife was educated and my children were educated. The terms Zedekà and charity could be confused, especially for those who are not familiar with the Hebrew language, with the meaning of Zedekà and with the Jewish lifestyle. The word Zedekà comes from the Hebrew word zedek, that means justice, or to be more precise the right thing to do. It is a must for a Jewish to do the Zedekà because it is the right thing to do, not because he has a particular feeling towards somebody or something.
Many people do not have and they refused to help because they said that, by paying a ransom it could be interpreted as a sort of collusion with Isis ...
Isis was not paid for the woman we rescued. The funds were used for the teams in order to rescue them from their captors, often Isis supporters living in the caliphate. (as Italian I feel ashamed because of redemptions paid by our governments to rid few geese ....). Why politicians are allowed to pay millions of euro to ransom and people with big heart are criminalized? Of course the redemption is a double-cut weapon. You know that there are sex slaves women who have imen rebuilt even twenty times and understand which human and psychological sufferings are subjected. But what other solution was possible than to continue to let them rape and die?
Politicians with their actions always have visibility and in any case a return of image (which can sometimes be a boomerang ...) in the short-medium term. Common people do not have any visibility; they invest themselves in high-risk actions and are often seen as a hindrance to large humanitarian organizations or at least those organizations that make it a profession
How much more could be done, even in Italy, with the help of municipalities (ie Muncipalità that invites the individual citizen) who remained insensitive your appeal. I believe that people have not yet understood, exactly were it is happened from 1939 to 1945 , what do you think?
What happens during the Second War is unfortunately a big baggage of pain often exploited. Usually remembered in Europe on 27 January, it should be remembered every day in order do not repeat the past experience.... For the victims of ISIS, there is no social cohesion that some international politics believe to have. It is much more convenient to show off against Israel or Trump, but people miss the courage to go down to a square to scream for the pain of Yazidi and Christian women who are victims of unimaginable violence
There are philanthropists who have helped you, or there is competitiveness?
This too is a sore point. I do not think there is rivalry between philanthropists, because each one of us is trying to support one other causes. Maybe there is a lack of cohesion and we often remain unknown among the known. Competition with other philanthropists from Kurdistan was a shame. They were Yazidis seeking a title and Honor but mostly political advance. They took advantage of a genocide for their personal gratification. In my case, I had no aspirations in Iraq or Kurdistan. I did it because I was simply jewish and that really quashed them.
I always said to them. During the Holocaust, never did we see a jew stop someone from helping jews to escape camps. But with Yazidis, I can't say the same.
Some of them were terrible as well as certain Kurds.
The Israeli newspaper Haretz (left), on 30 July 2015 has given space to the motivations of Babasheik & Friends "and as reply you invited a journalist, Efrat Lachter to follow you in Iraq. How did it end?
I invited In late August, Efrat Lachter, Israeli correspondent for "Ulpan Shishi" Channel 2 News, travelled to Northern Iraq and met with Yezidi women and children who were rescued from ISIS captivity. These are their testimonies: https://www.facebook.com/CYCIFoundation/posts/1716862421899115.Efrat came to vet CYCI and my actions. She made a movie called testimonies from hell. It was amazing and brought me to tears. She was able to show the truth of out actions and interviewed many Yazidis we had saved. It was proof and it came from Israel's greatest news outlet. I was very proud. The Israeli population was incredibly supportive of my actions. The ones to have been the least were people of my town. But the Torah tells us. Nobody is a prophet on his city.
It is true!
(Note of Paola, Steve Israel is our Land, we are hotel guest abroad, but for some reason not all of us can live in Eretz! So do not expect anything from the Catholic, Christian, Muslin & partner world!)
Your relationship with Stephen Harper, former Canadian Premier were very good and with the current one, Justin Trudeau?
There is zero contact with the Trudeau government.
The Harper government was amazing and this is what enabled me to be able to have the mission success. I do not elaborate the Harper involvement but everyone knows it exists.
I respect him and stay quiet on the issue. Without his implication, we didn't have a mission.
The lives saved of 140 from Isis territory , the distribution to 25000 people in Kurdistan, the 2311 Yazidis we took out of Lesvos Greece to Germany, and the camp of petra Greece where we catered to 1400 Yazidis was all a result of the decision Harper had taken to give me a certain support. It was not financial. I prefer not to discuss this for the time being.
We have plenty of communications with his ministers who each helped as was required.
God bless them. God bless him. He was unique and is engraved in the hearts of jews for his honesty.I admire him.
Where are allocated "Your Refugee camps" and do you want to explain to the readers the relationship with these people?
You don't know it? In Petra, Lesvos and Indirami (Greece) The story is always the same. The brokers pay with our money the liberation. Then they embark these people on boats, which, as far as I'm trying to always ask for safe boats, are the traffickers who hired the boats. As soon as people arrive to a port where we are present, we try to reunite them with family members. Then we find a fortune allocation, which can be one of our Volunteer Camps until then we find a safe place in Germany where there is a good community of Yazidi. Someone we sent to Canada or America (very few. Everybody say they support refugees, but at the end nobody wants to carry on them...)
In Italy refugees arrive daily and complain about they are placed in the periphery, in the mountains, away from urban centres, without television, switch poor internet connection, that the clothes are not fashion, bad food and they strike, very often baseless accusations. How could you, with your limited means to make happy Yazidi and Christians?
We helped and are helping Christians and Yazidis, human beings who fled from war, collective rape, unprecedented violence, real suffering for this we have been rewarded with great smiles, tenderness, love, respect, and eternal gratitude that have strengthened our soul. Our refugees thank us and they are not expecting big things, we try to give the maximum we can but we have limits. We have tried to act as angels and have been accepted as angels.
These people left their homes, attitudes, dreams, loves to and dream to spread's once's wings But often they are stopped by cruelty, bureaucracy, what do you say, where are the problems? The stories of these people have not magical and full colors, kind did not spent their time reading the last book by Harry Potter and the cute cartoons in TV.. Their daily lives have been and it is all about movement, but it is not pure energy: it is pure terror. I showed children who were put in a cage; all dressed in orange, and outside of the cage stood an ISIS combatant holding a lit-up torch, threatening to burn them. This image mimicked what ISIS had done to the Jordanian pilot. By looking at the photo, one could imagine the pain and loss, the terror these children were under. I showed Yazidi woman used as sex slaves, endured constant rapes and beatings. Their stories are a brutal and terrifying reality in a large part the Middle East today where religions are code words for hate and marauding gangs of murderous men have become the new normal. Now there are debates in the world to define the parameters of genocide, the Yazidi people want to know why they aren't worth rescuing. They want their people back. They want recognition for the hideous crimes committed against them and they want assurance that this won't happen again-ever. Personally, I believe that we must give everyone a chance, but it is necessary to establish priority pipelines. You cannot want to help everyone, because there is no structural and financial means to do so. I sow people in CYCY camps loving and smiling to me and my staff, happy with nothing, it is necessary to give them a chance, they are not economic migrants but people trying a desperate escape from hell. It is necessary to create a preferential lane for them; Europe cannot close its eyes in the face of this drama.

When iazide women in Germany are talking about their stories of violence on TV or in school, they say the whole truth; they have overcome the fear of shame?
It is an evolution of the pain that projects horrors and forms of the past, and it looks toward the future, which sometimes keeps the sufferance unrecognizable. These women are the reincarnation of raped Jewish women in the camps of extermination. Men are the reincarnation of Jewish men during Nazism, but they are have a different awareness than our ancestors had on 1940; they are sharper than us because they have a didactic preparation and a different life, they know how to identify with the space around them, mimicking and using pain as a tool for transformation and mentally growth up. They have doctors and structure (when they have the lucky to reach them) that Jewish people did not have...our relatives have only a small piece of Land. Of course, Paola, the pain remains inside and not all people are able to speak about and if you want to do something good try to organize a meeting in your city. There are nice Yazidi girls that will be glad to cooperate with you and to tell what is happened to them... in order that people understand...
Steve was right, he was just born when I was already in hospitals in Israel looking for my lost roots ... I had very long red hair and I remember that an old lady from Treblinka's Field was hospitalized in a special hospital facility by her arrival in Israel (thirty years later) approached me and with her hands took my hair with the index and the middle imitating the function of the scissor and believed to cut my hair ... trying to make me what they did to her.... The pain stays in and resists even if hidden by a mask. I have known many survivors from lagers and internment centers, not everyone wanted to tell their life, I know a few who after the war have become Christians and denied their Jewish origins, even inside my own family. I hope that the iazid people never give up their roots, because afterwards, retrieving them is very difficult
Ancora nessun commento.

Edicola online